"The Jio preview offer entitles the user to unlimited HD voice and video calls, SMS and high-speed mobile data for a period of 90 days"
Reliance Jio has taken the telecom industry by storm with its aggressive and very interesting trials in the recent times. After extending the preview offer to select Samsung smartphones, and then later to select LG smartphones as well, it was reported that anyone with a 4G SIM could avail the free SIM and the preview offer. However, this offer is not yet official, and hence only some stores are issuing the SIM for any 4G-capable smartphone.
That said, Reliance Jio has once again extended its official trial offers to a wide array of smartphones including some from brands like ASUS, Micromax, and Panasonic, among others. If you've been living under the rock for the past month or so, and you don't know what all this fuss is about, then you've come to right place. The Jio preview offer entitles a user to free unlimited HD voice and video calls, SMS and high-speed data for a period of 90 days. The offer also includes Jio's suite of premium apps, including JioPlay for live TV, JioBeats for music streaming, JioOnDemand for VOD and more.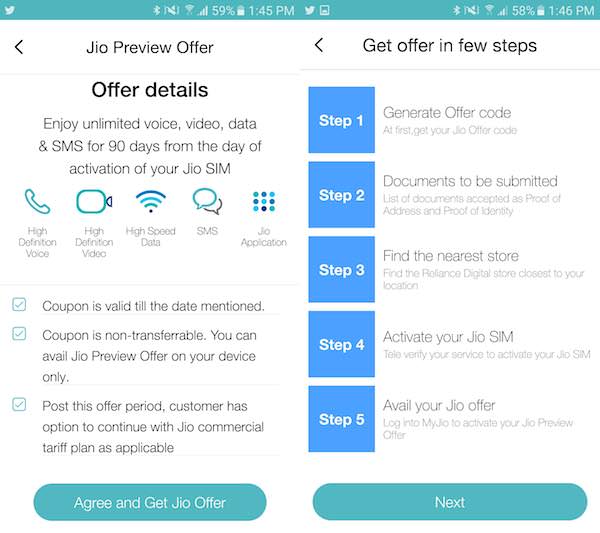 After the validity of the offer expires, users will be able to switch to a standard commercial plan, details of which haven't been announced yet, but we bet that it will be very affordable. You can check below if your smartphone has made the cut for the offer or not, and then follow these simple steps to be a proud owner of a new Jio SIM complete with the preview offer:
1. Download and open the MyJio App from the Play Store
2. Tap on "Get Jio SIM" on the banner
3. Tap on "Agree & Get Jio Offer"
4. Select your location from the drop-down list
5. Read through the steps and click "Next"
6. Note down the offer code displayed on the screen and also take a screenshot
7. Check the required documents for submission and visit the nearest store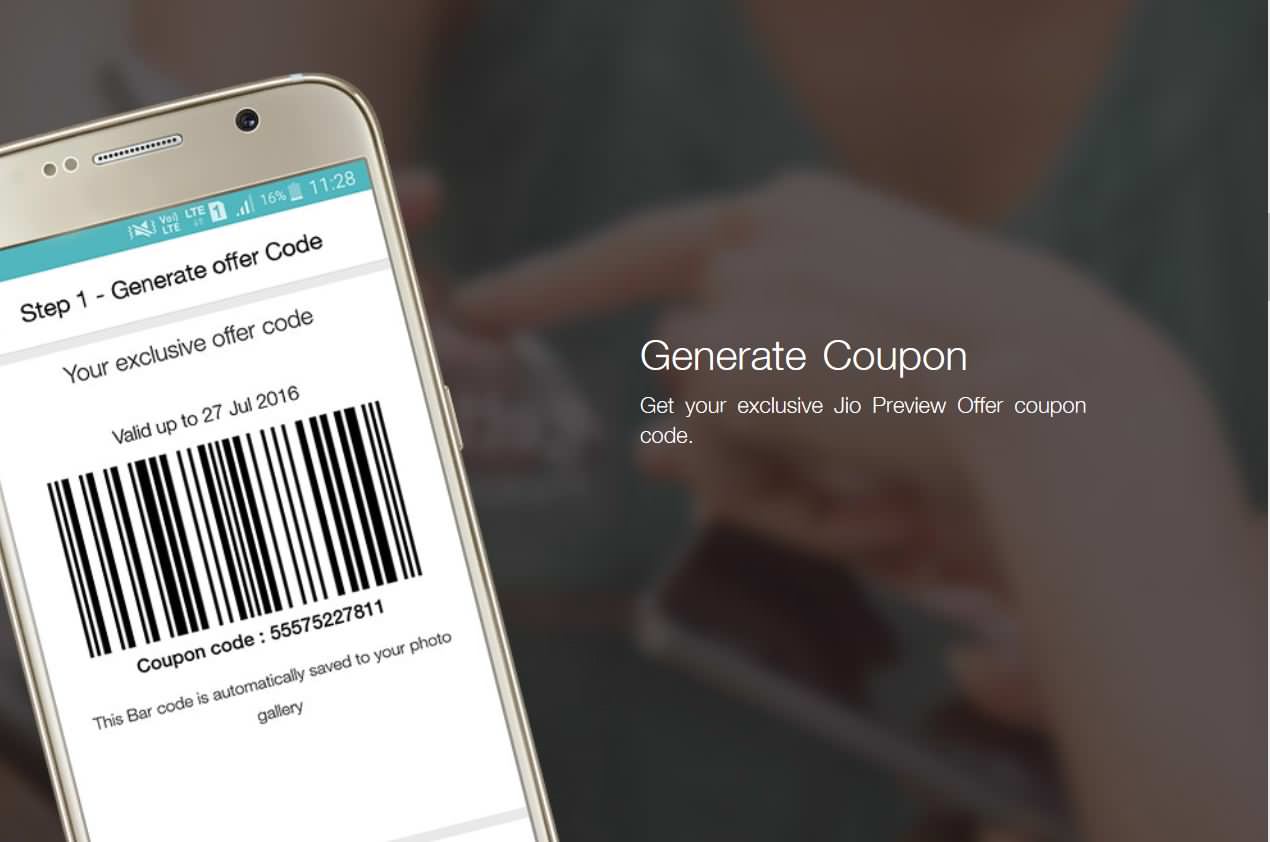 The Reliance Jio preview offer is currently applicable to all the devices listed below. This list will be updated as and when new devices are made eligible for the offer by Jio.
Samsung
Galaxy Grand Prime 4G, Galaxy Core Prime 4G, Galaxy J1, Galaxy J2, Galaxy J3 (2016), Galaxy J5, Galaxy J7, Galaxy A5, Galaxy A7, Galaxy A8, Galaxy On7, Galaxy On5, Galaxy S5 Plus, Galaxy S6, Galaxy S6 edge, Galaxy Note 5, Galaxy Note 4, Galaxy Alpha, Galaxy S6 edge Plus, Galaxy Note 4 edge, Galaxy Note 5 Duos, Galaxy S5 Neo, Galaxy S7, Galaxy S7 edge, Galaxy A5 (2016), Galaxy A7 (2016), Galaxy J5 (2016), Galaxy J7 (2016), Galaxy On5 Pro, Galaxy On7 Pro, Galaxy J2 (2016), Galaxy J Max, Galaxy J2 Pro, and Galaxy Note 7.
LG
K332 (K7 LTE), K520DY (Stylus 2), K520DY, H860 (LG G5), K500I (X Screen), K535D (Stylus 2 Plus), and LGH630D (G4 Stylus 4G).
Micromax
Canvas Pulse 4G, Canvas Nitro 4G, Canvas Knight 2, Canvas 5, Canvas Evok, Canvas 6 Pro, Canvas 6, Canvas Blaze 4G, Canvas Fire 4G, Canvas Fire 4G plus, Canvas Xpress 4G, Canvas Blaze 4G Plus, Canvas Pace 4G, Canvas Mega 4G, Bolt Selfie, Canvas Mega 2, Canvas Unite 4, Canvas Fire 6, Canvas Sliver 5, Canvas Juice 4G, Canvas 5 Lite, Canvas 5 Lite Special Edition, Unite 4 Pro, Canvas Play 4G, Canvas Amaze 4G, Unite 4 Plus, and Canvas Tab.
YU
Yuphoria, Yureka, Yutopia, Yunique, Yuphoria, Yureka Plus, Yureka Note, Yureka S, and Yunicorn.
ASUS
ZenFone 2 Laser (ZE550KL), ZenFone 2 (ZE551ML), ZenFone Max (ZC550KL), ZenFone 2 Laser 5.0 (ZE500KL), ZenFone 2 (ZE550ML), ZenFone Selfie ( ZD551KL), ZenFone 2 Laser (ZE601KL), ZenFone Zoom (ZX551ML), ZenFone Go 5.0 LTE (T500), ZenFone 3 ZE552KL, ZenFone 3 Laser ( ZC551KL), ZenFone 3 ( ZE520KL), ZenFone 3 ( ZS570KL), and ZenFone 3 ( ZU680KL).
Gionee
Gionee M5 Marathon Plus, Marathon M4, F103, F103 Pro, M5 Lite, Elife S6, Elife S7, Elife E8, Elife S Plus, Pioneer P5L (2016), Elife S6s, and CTRL V6L LTE.
Lava
Lava X11, Pixel V2, X81, V5, Iris X10, X38, X50, A72, X17, A71, Iris X5 4G, A76, A89, X46, A88 and V2s.
XOLO
Era 4G, Era 4K, Era X, Black, Black 3GB RAM, and Black 1X.
Panasonic
ELUGA L, ELUGA Switch, ELUGA Icon, T45, ELUGA I2 ( 1GB ), ELUGA L2, ELUGA Mark, ELUGA Turbo, ELUGA Arc, ELUGA I2 2GB, ELUGA I2 3GB, ELUGA I3, ELUGA Icon 2, ELUGA A2, ELUGA Note, P55 Novo 4G, ELUGA Arc 2, and P77.
Alcatel
POP3, POP Star, POP4, OneTouch X1, and Pixi 4 -5.
TCL
TCL 560, Pride T500L, FIT 5.5, and TCL 562.
Karbonn
Karbonn Aura Power 4G, Quattro L50, Quattro L45 IPS, Quattro L52 VR, and Quattro L51 HD.
Apart from the aforementioned devices, you can also get the Jio Preview offer on all LYF branded handsets as well as with the JioFi device. It's worth noting that reports point out that the Jio offer may be valid for up to one year on the purchase of the LYF handset rather than the usual 90 days. It's quite evident that Reliance has covered a major chunk of the 4G audience in its trials.
Now all that is left to see is the commercial launch of services from the company, and we're waiting eagerly. What about you?